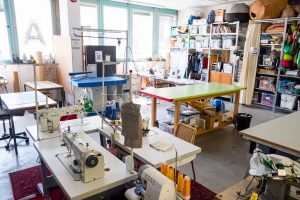 We have an external textile workshop at Haus der Materialisierung (HdM) to repair the costumes there. Since we only use the workshop for this 3 times a week, it can be used for other purposes:

Open repair and upcycling workshop
In our open workshop Fetzen&Flicken, all Berliners can repair or change their own clothes with advice and guidance on how to do it. Our Fetzen&Flicken workshops deepen repair craftsmanship, care tricks to enhance clothing and upcycling methods.
The material store, to which users:inside are welcome to contribute, contains fabrics as well as other things, such as foams, ribbons or skins.
Open repair and alteration workshop: Every Tuesday & Wednesday from 3 – 7 p.m. for own repairs or modifications under guidance. We are happy about a donation of about 2 € per hour.
Special Fetzen&Flicken repair and upcycling workshops: Registration by e-Mail. For our workshops we are happy about a donation of 10-25 € per day.
IN 3 WEEKS TO YOUR SELF-SEWN COAT (fully booked)
December 3rd/9th/17th, 2023 | 12 p.m. – 5 p.m.
with Thimm Hoth, garment master

Part 1 of our workshop series, in which we want to teach you how to make a tailor-made coat from scratch. The first part is about the pattern construction, the second about the cutting and the third about the processing. Please bring 3m of fabric (2m for the torso and 1m for the sleeves) with you at the beginning of the workshop. You are welcome to get advice on choosing your fabric during our open textile workshop. Kunststoffe (Tue+Th 15-19) and Material Mafia (Tue+Wed 15-19) are two other good addresses at the HdM where you can buy fabrics. Parts 2 to 4 will take place on December 3rd/9th/17th, 2023.
RECYCLING AND CLOTHING TRANSFORMATION WORKSHOP – Creating a new life for your garments
Sunday December 10, 2023 | 12 p.m. – 4 p.m.
with Ika Abigayll fashion designer

Discover the world of fashion upcycling in a beginner-friendly workshop. We will learn practical techniques such as creative cutting, embroidery, stencilling, bleaching and dyeing. No sewing machine required. Bring out your personal style as you transform old garments into unique and eco-friendly pieces of art.
CHRISTMAS SPECIAL
Friday December 15, 2023 | 11 a.m. – 3 p.m.
with Yvonne Rothschild, tailor

Christmas again? A quick, loving little gift made from recycled material, e.g. favorite shirt becomes a pillow, sew a Christmas card, fabric bookmark, cherry stone pillow (please bring the stones), fabric bag instead of packaging paper.
Here you get an impression of our textile workshop at Haus der Materialisierung:
The project Fetzen&Flicken is funded within the framework of the Berlin Energy and Climate Protection Program 2030 by the Berlin Senate Department for Environment, Transport and Climate Protection and by Koop5.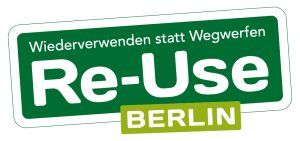 Independent use for own projects:
We provide space and machines for costume designers to work independently and professionally. Before using the space, users receive technical instruction on the appropriate machines. This instruction is confirmed with a certificate, so that from then on the machines can be rented. Registration by e-Mail.
The project stock of costumes und textile workshop for costume designers is funded by Berlin's Senate Department for Culture and Europe.