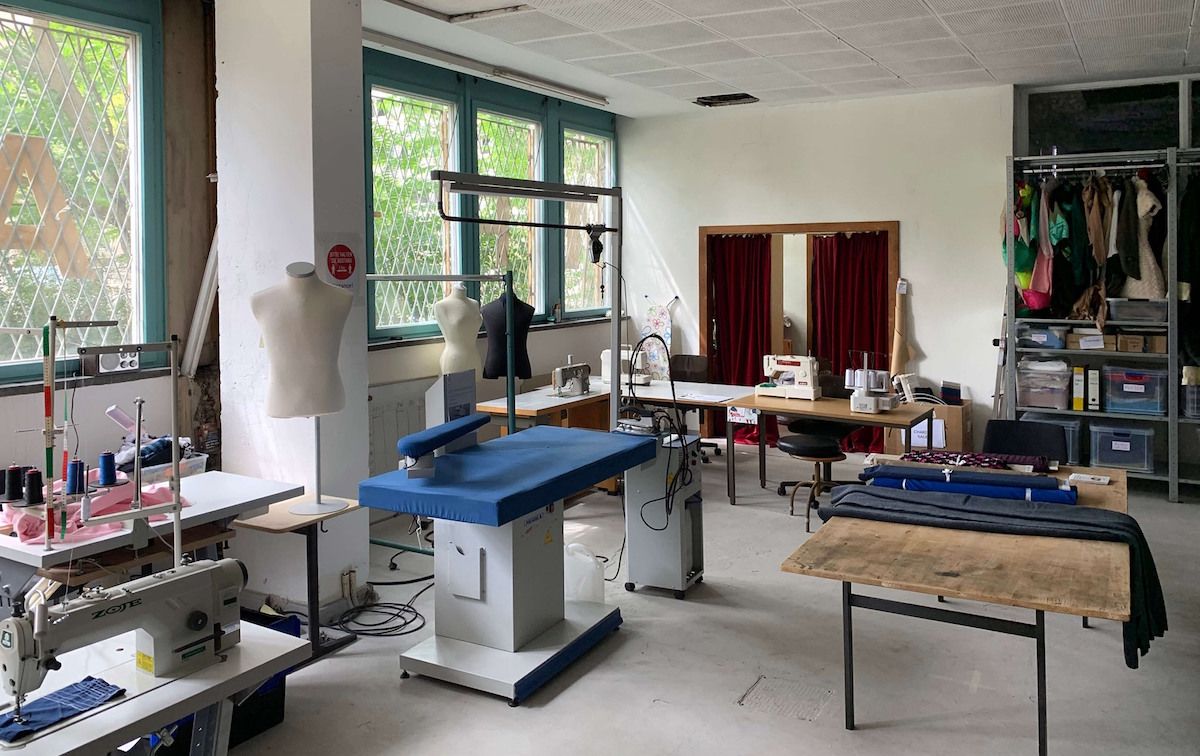 We have an external textile workshop at Haus der Materialisierung (HdM) to repair the costumes there. Since we only use the workshop for this 3 times a week, it can be used for other purposes:

Open repair and upcycling workshop
In our open workshop Fetzen&Flicken, all Berliners can repair or change their own clothes with advice and guidance on how to do it. Our Fetzen&Flicken workshops deepen repair craftsmanship, care tricks to enhance clothing and upcycling methods.
The material store, to which users:inside are welcome to contribute, contains fabrics as well as other things, such as foams, ribbons or skins.
Open repair and alteration workshop: Every Tuesday & Wednesday from 3 – 7 p.m. for own repairs or modifications under guidance. We are happy about a donation of about 1 € per hour.
Special Fetzen&Flicken repair and upcycling workshops: Registration by e-Mail. For our workshops we are happy about a donation of 15 € per day.
TURN 1 INTO 4 
Saturday February 04, 2023 | 3 p.m. – 7 p.m
with Sonja Schön, Fair Fashion-Designer
Many new pieces can be created from a jumper, shirt or t-shirt! I would like to invite you to use simple methods to create new accessories or even small items of clothing from a piece of clothing you have put aside. Hats, cuffs, headbands, purses, bags, cushions, pencil cases or pocket knife sheaths – many things are possible! Bring your own clothes or choose materials on site at the price of a kilo. Basic knowledge of the sewing machine and overlock is an advantage.
REPAIR OF KNITWEAR 
Friday February 10, 2023 | 2 p.m. – 6 p.m
with Monika Franz

In this workshop, knitting expert Monika Franz shares knowledge about the repair of knitwear. With her 40 years of professional experience, she finds a solution for almost every knitting problem. You can bring your own repair projects with you or buy some cheaply in the sweater box at the textile port. You will learn how to mend holes in sweaters, repair broken hems and much more (https://graefe90.jimdo.com).
MULTI USE-PACKAGING 
Sunday February 19, 2023 | 3 p.m. – 7 p.m
with Sonja Schön, Fair Fashion-Designer
We produce sustainable, beautiful and practical gift packaging, which is also versatile, from leftovers or discarded clothing. Furoshiki cloths for books, gift bags for textiles, changing cases for bottles – and much more. The possibilities are unlimited. Depending on your sewing skills, we make simple hems, turn different materials or learn simple patchwork techniques. How do you sew simple fastener tapes or buttons and buttonholes? That can be learned from here. You are welcome to bring material with you or buy a wide variety of textiles at low prices. Sonja Schön, master tailor
UVOS (unfinished tailoring) 
Saturday February 25, 2023 | 12 p.m. – 4 p.m
with Yvonne Rothschild, master tailor
Who does not know this and also has UVOS (unfinished tailoring) at home. This weekend we want to motivate each other. Yvonne Rothschild, master tailor, will be at your side with advice and action. I'm looking forward to seeing you.
Here you get an impression of our textile workshop at Haus der Materialisierung:
The project Fetzen&Flicken is funded within the framework of the Berlin Energy and Climate Protection Program 2030 by the Berlin Senate Department for Environment, Transport and Climate Protection and by Koop5.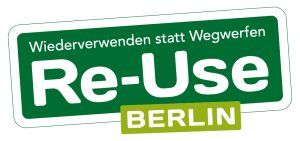 Independent use for own projects:
We provide space and machines for costume designers to work independently and professionally. Before using the space, users receive technical instruction on the appropriate machines. This instruction is confirmed with a certificate, so that from then on the machines can be rented. Registration by e-Mail.
The project stock of costumes und textile workshop for costume designers is funded by Berlin's Senate Department for Culture and Europe.