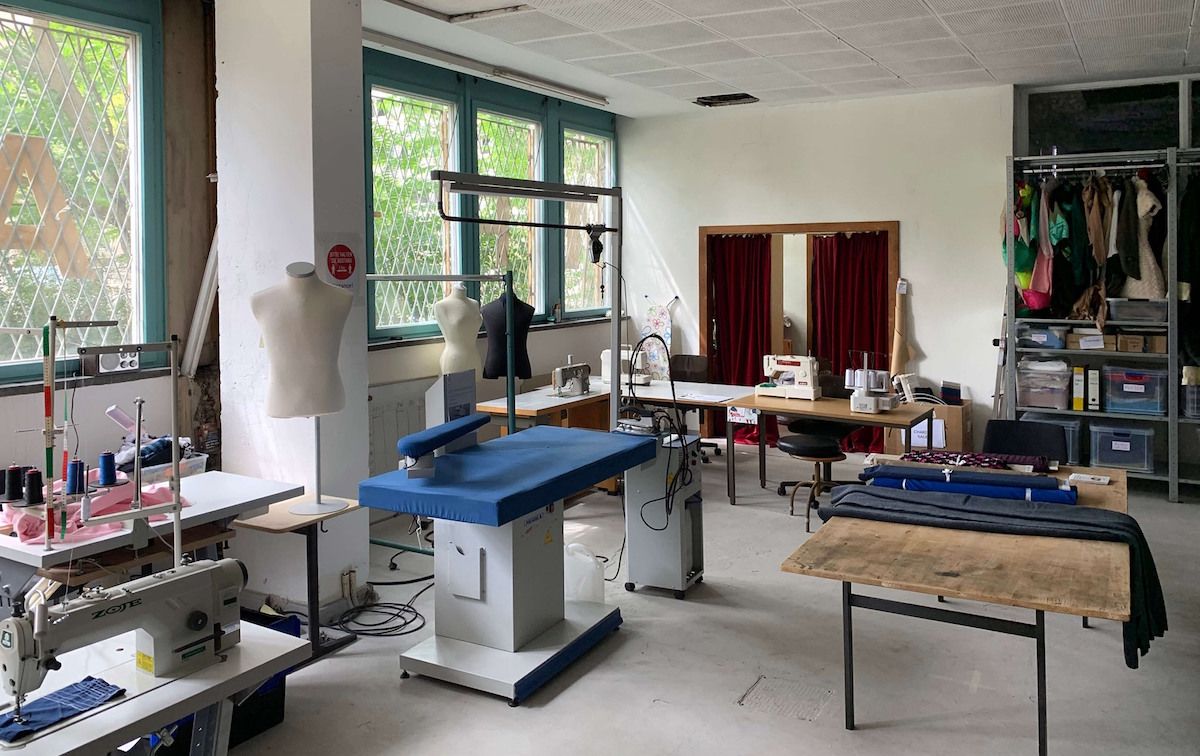 We have an external textile workshop at Haus der Materialisierung (HdM) to repair the costumes there. Since we only use the workshop for this 3 times a week, it can be used for other purposes:

Open repair and upcycling workshop
In our open workshop Fetzen&Flicken, all Berliners can repair or change their own clothes with advice and guidance on how to do it. Our Fetzen&Flicken workshops deepen repair craftsmanship, care tricks to enhance clothing and upcycling methods.
The material store, to which users:inside are welcome to contribute, contains fabrics as well as other things, such as foams, ribbons or skins.
Open repair and alteration workshop: Every Tuesday & Wednesday from 3 – 7 p.m. for own repairs or modifications under guidance. We are happy about a donation of about 2 € per hour.
Special Fetzen&Flicken repair and upcycling workshops: Registration by e-Mail. For our workshops we are happy about a donation of 10 € per day.
PATTERN CONSTRUCTION – TOP (2 days)
Saturday June 03, 2023 | 1 p.m. – 5 p.m
Sunday June 04, 2023 | 11 a.m. – 3 p.m
with Lena Hoepfner, fashiondesigner
In this workshop I will construct a top with you according to your own measurements. We then sew a test piece from old textiles. This basic pattern can be changed depending on the model and is therefore a great basis for your ideas.
SHIRT NECKLINE TOO BIG / SLEEVES TOO SHORT
Sunday June 11, 2023 | 12 p.m. – 6 p.m
with Yvonne Rothschild, tailor master

Shirt neckline too big, sleeves too short. There can be helped. We turn two shirts into one and embellish and modernize our favorite shirts. There are no limits to creativity.
SPECIAL: WEAVING WITH ANDREAS MÖLLER
Sunday June 18, 2023 | 11 a.m. – 5 p.m
with Andreas Möller, hand weaver

In this workshop, Andreas Möller will provide insights into his Flying8 weaving skills (www.weberei-hamburg.com): He will impart theoretical knowledge about the countermarch loom and explain the advantages of his Flying8_looms, which he built himself from scrap wood. In the practical part, patchwork quilts are made from T-shirt yarn and robust bags made from canvas double fabric. Andreas Möller has been a freelance weaver for over 30 years and has received numerous design awards. His 'Fad Cartograph' can currently be seen in the 'Weltstudio' in the 'Berlin Global' exhibition in the Humbold Forum: https://www.humboldtforum.org/de/programm/termin/drop-in/weltstudio-spezial-weltweben-80705/
UPCYCLING WITH FIGURATIVE EMBROIDERY
Saturday June 24, 2023 | 12 p.m. – 6 p.m
with Emilia Patrignani, Illustrator and Costume Designer

Illustrator and Costume Designer Emilia Patrignani will give you an introduction into basic embroidery techniques to personalize, repair and add an emotional value to a boring or broken garment. After an introduction to the first steps and basic stitches, we will linger on the garment that each one brought and let the fantasy run wild while we decide how to repair and/or embellish them. No manual nor creative skills required: all the materials to embroider, drawings and various inspirational material to create will be provided, but if you have embroidery loops, thread and needles please feel free to bring and share them. You will just need to bring a garment you want to embroider on! (please note that figurative embroidery makes sense when it is in places where it can be seen).
COVER HOLES & STAINS – Clothes rescue action
Friday June 30, 2023 | 3 p.m. – 7 p.m
with Katja Jahn, tailor master

Rescue your favorite piece of clothing! If holes and stains have spread on your garment, in this class you will learn techniques by hand or sewing machine to cover stains and holes and use them for new embellishments. Of course, I can also show you how to make holes disappear as invisibly as possible. Get inspired by my embroidery and patch examples or bring your ideas and I will help you to implement them. Feel free to bring several pieces of clothing to repair and decorate.
Here you get an impression of our textile workshop at Haus der Materialisierung:
The project Fetzen&Flicken is funded within the framework of the Berlin Energy and Climate Protection Program 2030 by the Berlin Senate Department for Environment, Transport and Climate Protection and by Koop5.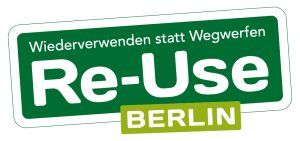 Independent use for own projects:
We provide space and machines for costume designers to work independently and professionally. Before using the space, users receive technical instruction on the appropriate machines. This instruction is confirmed with a certificate, so that from then on the machines can be rented. Registration by e-Mail.
The project stock of costumes und textile workshop for costume designers is funded by Berlin's Senate Department for Culture and Europe.